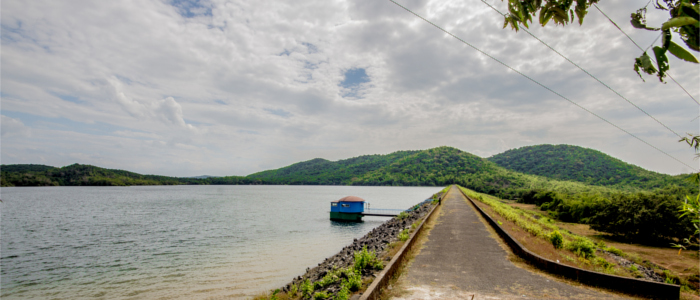 Minor Irrigation Schemes are eminently suitable for the State due to the undulating topography of Goa, which does not have vast continuous stretches of land to permit flow irrigation. The systematic program of development of minor irrigation tanks, bandharas, canals, lift irrigation has been vigorously undertaken since the State came under intensive drive in expanding irrigation facilities, with the setting up of a separate Department in 1980. Till today, an irrigation potential of 21622 has been created under the minor irrigation sector as against 7860 Ha. at the time of liberation.
The irrigation potential under minor irrigation is both by surface water and by ground water. The Water Resources Department is implementing various schemes such as irrigation wells, tanks, lift irrigation schemes, bandharas, to bring maximum area under minor irrigation. The Department is also encouraging the farmers for construction of open wells/bore wells under the subsidy scheme.
The M.I. Tanks constructed by the Water Resources Department are not only facilitating the irrigation in hinterland, but also augmenting rural water supply. Rise in ground water table is observed in the vicinity of such schemes.
The stored water in the Chapoli tank has become a boon to the entire farming community as well as to the residents of Canacona area. Through this tank, raw water is supplied to the water treatment plant of P.W.D. to supply potable water to the residents.
LOCATION
State:Goa
Taluka:Canacona
River:Nallah starting from Chapoli
HYDROLOGY
Catchment Area:3.63+3.20 sq. km.
Mean Annual Rainfall:2996 mm
Maximum Design Flood:85 cumecs
RESERVOIR
Maximum water level:38.75 Mts.
Full Reservoir Level:38.25 Mts.
Minimum Draw down Level:22.00 Mts.
Gross Storage Capacity:998.24 Hamts (9.9824 MCM)
Dead Storage Capacity:49.00 Hamts (0.49 MCM)
Live Storage Capacity:876.58 Hamts (8.7658 MCM)
DAM
Type of dam:Earthen Dam
Top of dam:41.00 Mts.
Length of the dam:760 Mts.
Height of the dam :25.50 Mts.(above the deepest bed level)
SPILLWAY
Type of Spillway:Chute un-gated type
Max. head over the crest:0.50 Mts.
Crest Level:38.25 Mts.
CANNALS
Design discharge of canal:1 cumecs
Length of the RBMC and dist:9.25 Kms
IRRIGATION
Culturable Command area:550 Hactares
SUBMERGENCE
Total area under submergence:110 Ha.
Total villages affected:Nil
Total families affected:Nil
FINANCIAL ASPECTS
Estimated cost (Original):Rs.3.40 crores
Revised cost:Rs.10.50 crores